Underdog Dog Food & Treats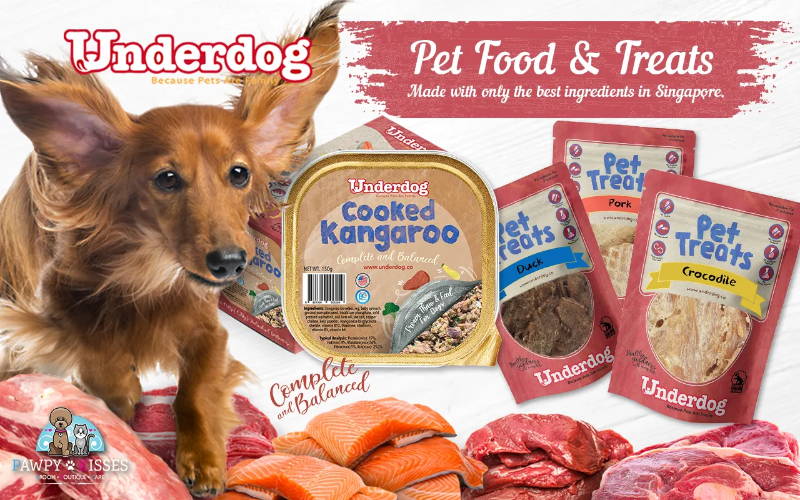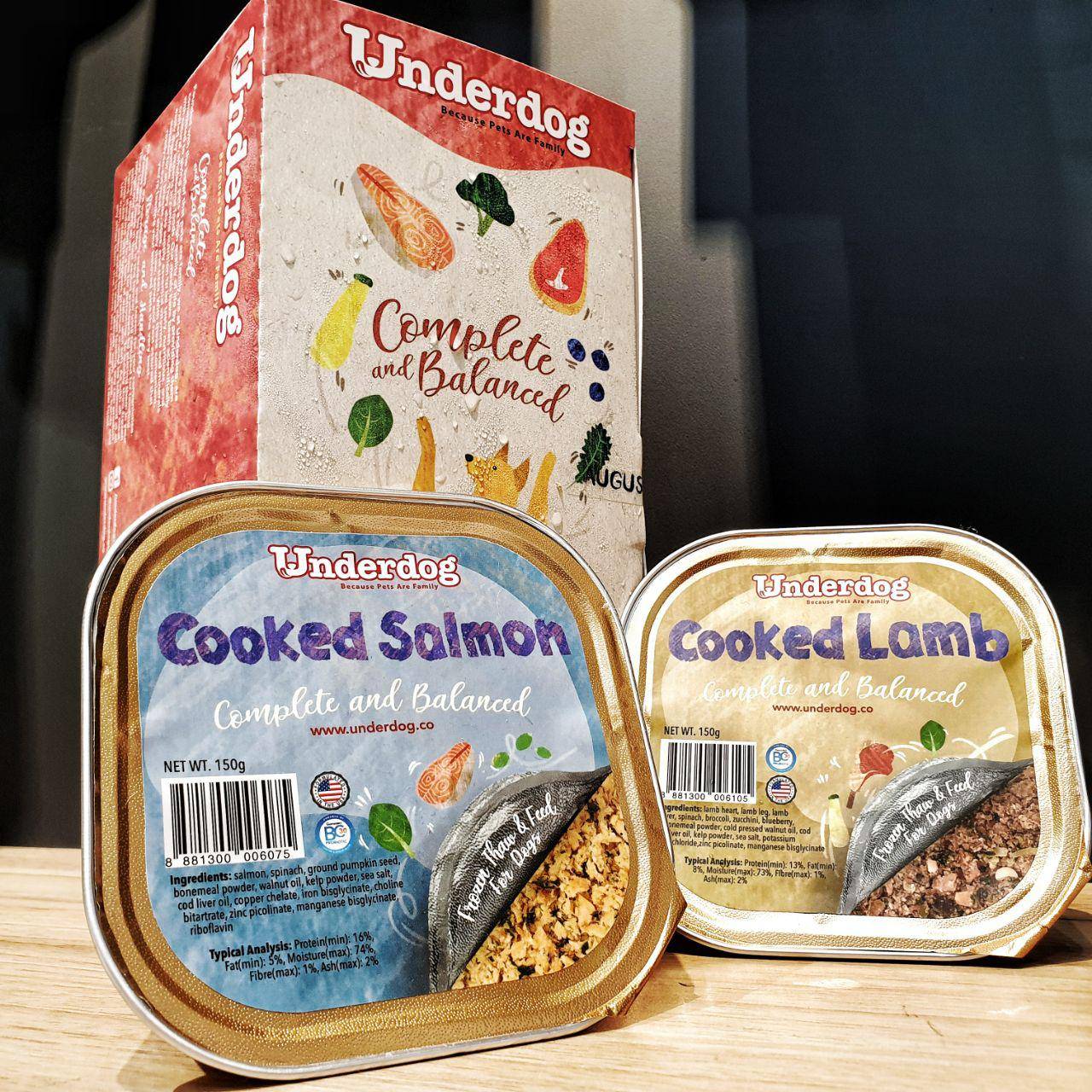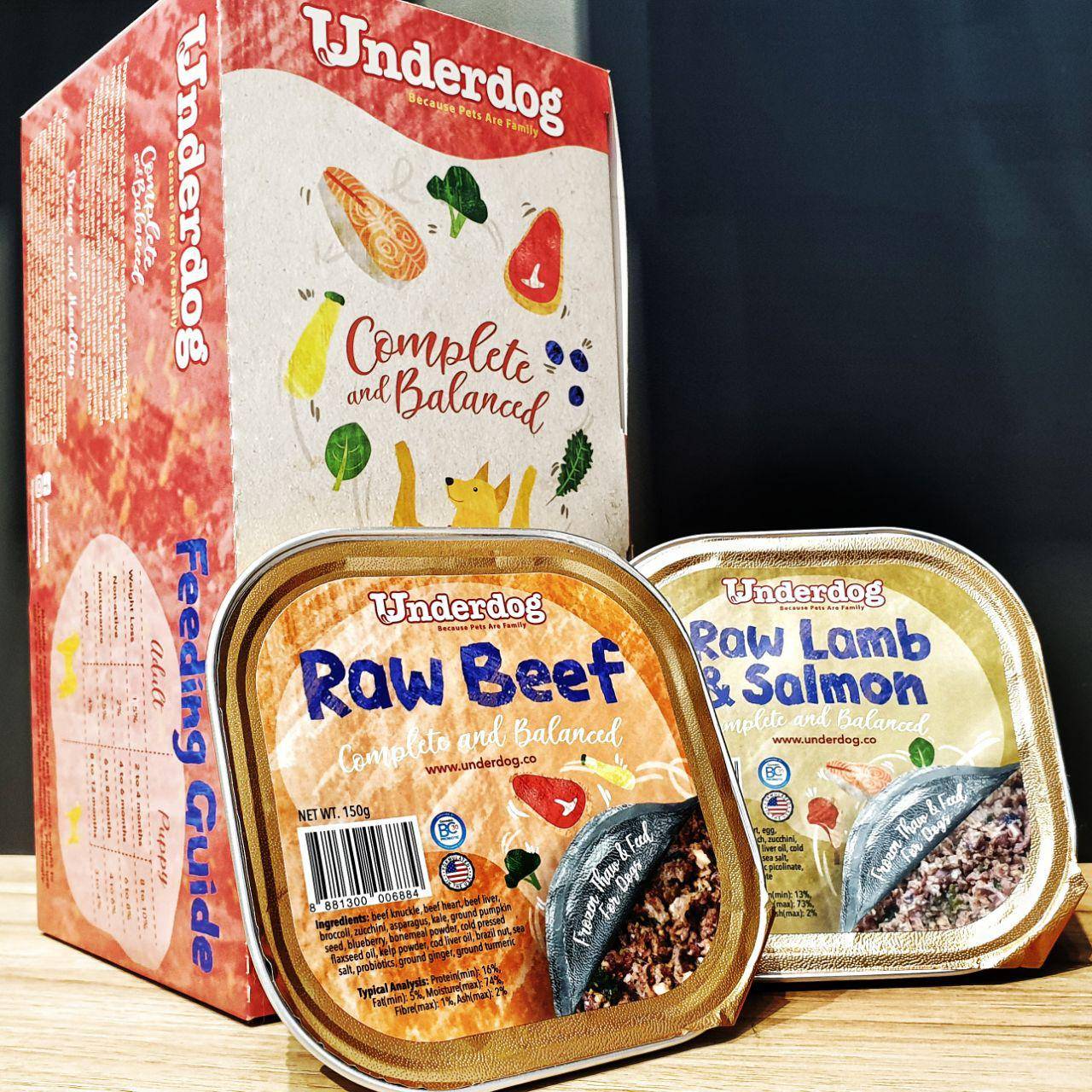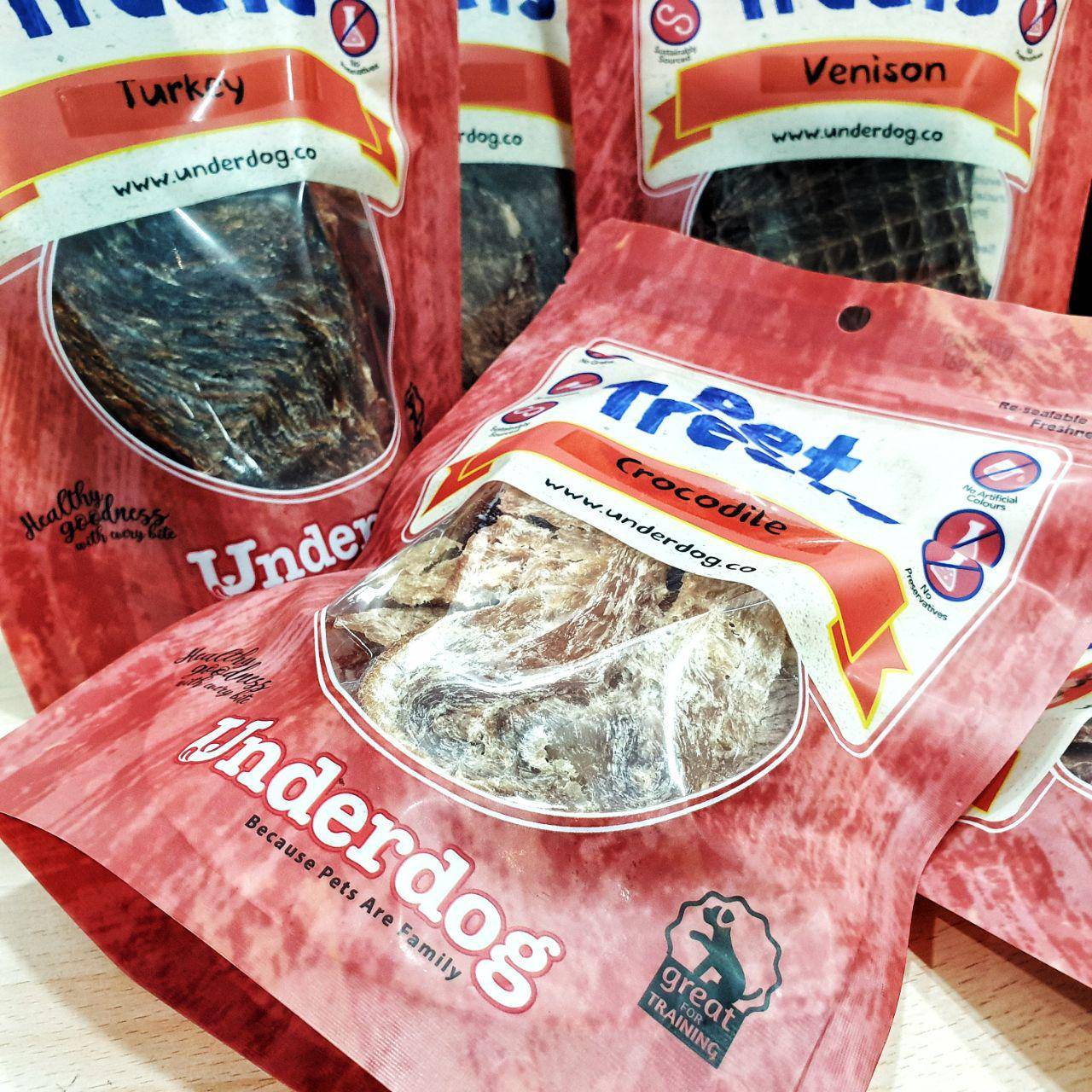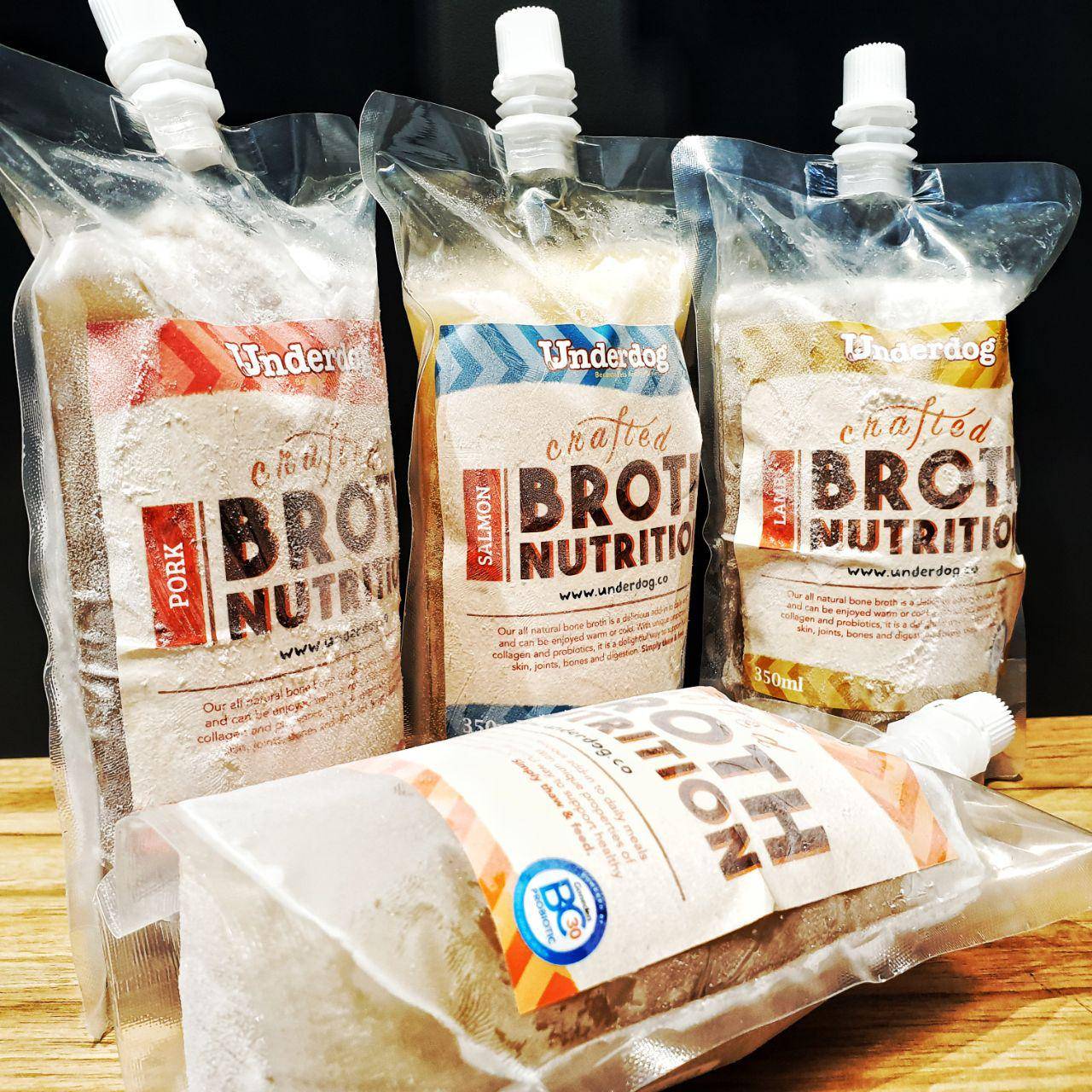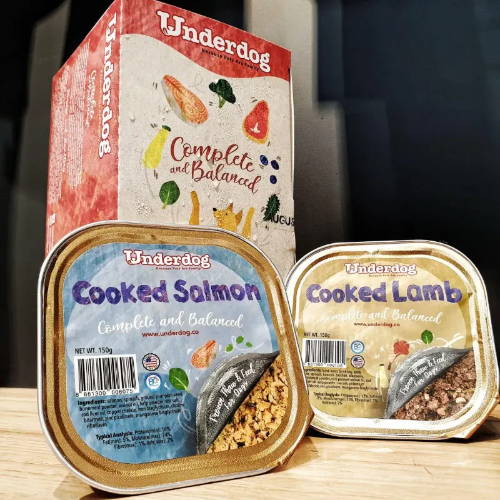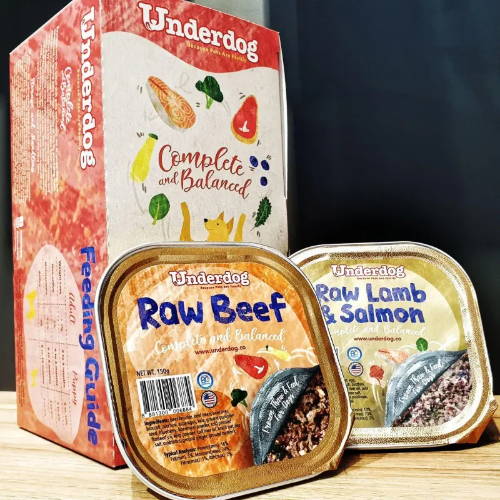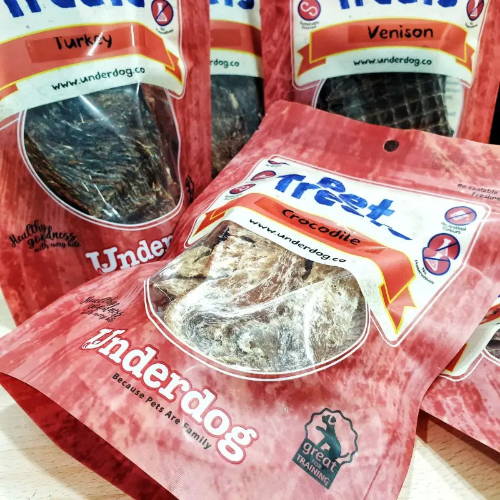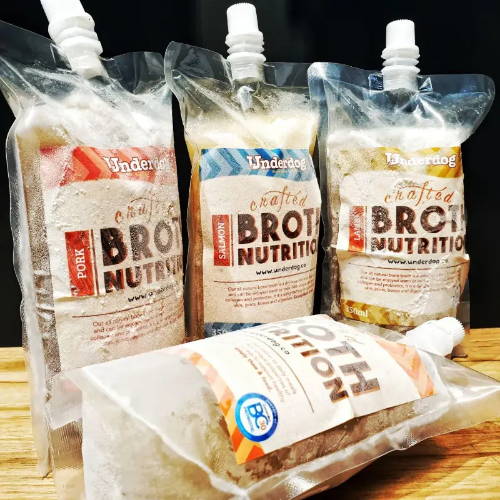 ---
What is Underdog dog food?
Underdog is a fresh dog food that comes in cooked or raw, made in Singapore. Underdog is also a frozen dog food using freezing technology to lock-in all the natural goodness such as taste & nutrition.
Underdog is one of the best fresh dog food recommended in Singapore. You can view our Underdog dog food review and understand more about the brand.
Cooked vs Raw Dog Food
A simple comparison between the cooked and raw dog food:
Cooked dog food is processed using heat which could result in some loss of nutrients but unlike conventional pet food in the market, Underdog dog food is gently cooked which helps to retain the majority of the natural nutrients.
Raw dog food is unprocessed by heat which could retain 100% of the ingredients essential nutrients such as vitamins & minerals.
Underdog Dog Food Flavour
There are 9 different animal proteins available for Underdog dog food and they're Chicken, Duck, Fish (Salmon & Pollock), Crocodile, Salmon, Kangaroo, Beef, Lamb and Pork. (Crocodile, Fish, Duck, Salmon, Kangaroo and Pork is not available for the raw dog food.)
For the cooked dog food, other than the single-animal protein formula, Underdog has a unqiue combination of Pork & Salmon cooked dog food available.
They also have a raw dog food formula with a unique combination of Lamb & Salmon raw dog food.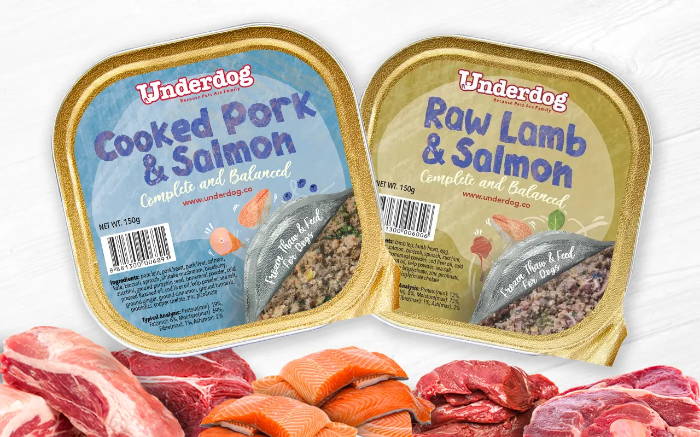 Underdog Dog Treats & Bone Broth
Underdog Dog Treats
Underdog dog treats are irresistible as they are dehydrated air-dried to retain the natural meat taste and nutrition with seven single-animal proteins for your selection.
The meat protein consists of Crocodile, Kangaroo, Pork, Beef, Duck, Turkey or Venison.
Healthy Dog Treats!
Underdog dog treats are not just delicious but it is also very nutritious with high protein and lower fat content! They're the perfect dog treats as snacks, rewards, training treats or use it as everyday treats.
They contain no grains, hormones, artificial colors, artificial flavors and preservatives. The meat ingredients used are all sustainably sourced.
Dehydration Cooking Process
Underdog dog treats are slowly-dehydrated at 60°C with using only the best cuts of meat and the closest to freeze-dried dog treats!
Reward your dog with only the best dog treats.
---
Underdog Bone Broth
Underdog Bone broth is one of the most nutritious complimentary or supplemental feeding food that most pet parents are missing out today!
Bone broth for dogs are healthy and highly nutritious, they're made by simmering bones at a low temperature for a prolonged period of time while preserving all the goodness of the bone marrows.
Collagen for Dogs
Underdog Bone Broth contains Collagen which is highly beneficial to dogs. It helps to support support skin, joints and bones for your dog.
It also contain Probiotics which helps to support healthy digestion.
How to feed Underdog Bone Broth?
Underdog Bone Broth can be prepared by thawing in the chiller as a cold nourshing & delicious drink, poured over dry dog food, or use it to re-hydrated freeze-dried dog food to make the meals even more flavorful and nutritious.
It can also be warmed and serve.
These delicious Underdog Bone Broth is definitely highly recommended and four flavors is available including Salmon Bone Broth, Pork Bone Broth, Lamb Bone Broth, and Beef Bone Broth.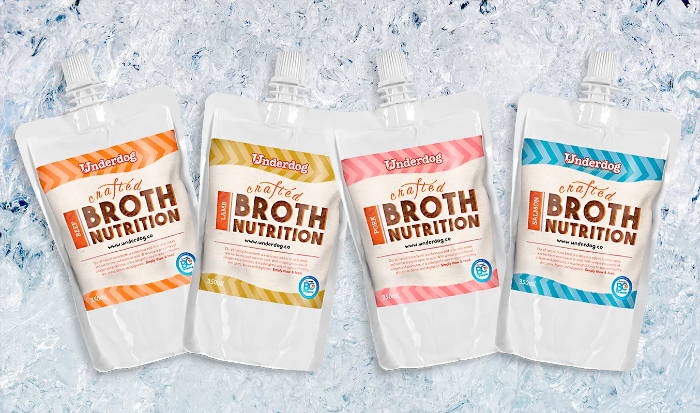 Why choose Underdog Dog Food in Singapore?
Underdog Fresh Dog Food
Underdog is made locally with the aspiration of providing wholesome and human-grade ingredients fresh dog food that will not just benefit your pet's health but also provide them with a truly nutritious and tasty fresh dog food!
Underdog is a fresh dog food that is highly similar to a home cooked dog food that were scientifically crafted by experts in canin nutrition.
About Underdog
Underdog Pet Food was inspired by seeing how Mocca, a shelter dog with various health conditions regained his health and back with full of energy after several months of feeding wholesome and human-grade fresh food that was made by mimicking the natural diet your pets seek in the wild.
Underdog has always believe - Pets are Family, they deserve the best nutrition with fresh ingredients.
Our Thoughts
At Pawpy Kisses, what we truly love about fresh dog food is that they are minimally processed whereby all the important essential nutrients will be retained in its purest form.
As responsible pet parents ourselves, we want our dogs to be striving with maximum nutrients from the ingredients used in the food but not from heavily supplemented foods with synthetic additives.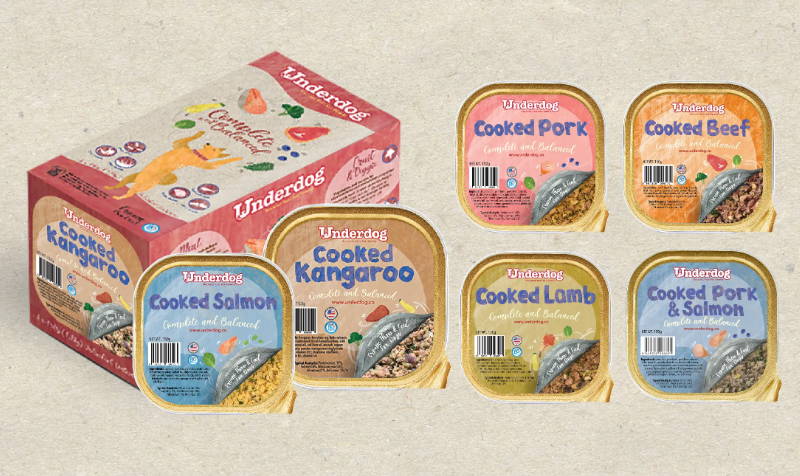 AAFCO Guideline - Underdog Dog Food Complete & Balanced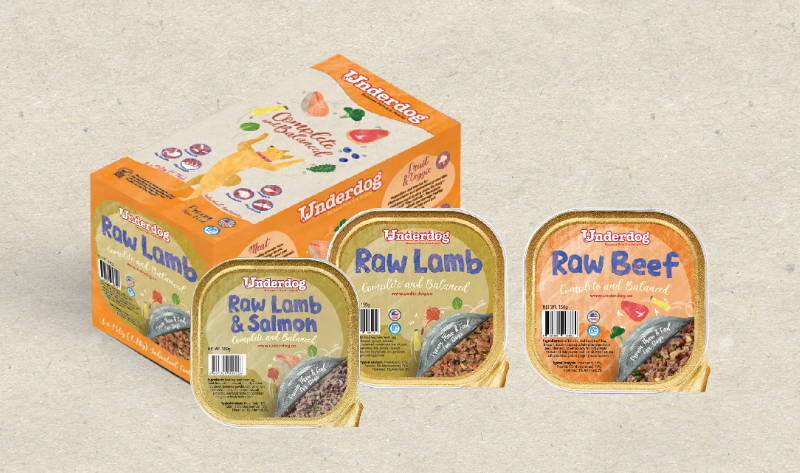 Complete Balanced Dog Food
Home cooked dog food is the new trend of healthy & delicious dog food in Singapore. However, we would like to emphasize that the home cooked dog food will have to be complete and balanced to meet the nutritional needs of your dog.
Underdog is a fresh dog food that is highly similar to a home cooked dog food that were scientifically crafted by experts in canin nutrition.
AAFCO Guidelines
Underdog dog food is formulated in the USA to meet nutritional levels established by the FEDIAF & AAFCO Dog Food Nutrient Profile for All Life Stages.
Underdog is a complete and balanced fresh dog food that supply optimal levels of essential vitamins, minerals and omega 3s, suitable for all dog breeds, ages, and sizes.
International well-known dog food brands also follows the AACFO nutritional guidelines for their pet foods.
Probiotic Ganeden BC30
Last of all, Underdog dog food contains Probiotic Ganeden BC30 that supports digestive and immune health. It is an organic compliant ingredient that is found in many popular food and beverages around the world. Most probiotic would not be able to survive the journey to the digestive system, however, Probiotic Ganeden BC30 can survive in harsh conditions including manufacturing process such as cook, boil, freeze and pressurize.
What is the benefits of feeding Underdog Dog Food?




The benefits of feeding Underdog
When your dog is benefiting from the maximum natural nutrients from the ingredients contained in the food, you will certainly see an overall improvement on your dog's health! Some of the benefits of feeding Underdog - it helps to reduce skin & food allergies, healthier skin & coat, better muscle tone & joints, improved digestion and firmer & less smelly poo.
Similarly to human, we can see an obvious result on our health when we eat healthier food daily comparing to eating junk food (highly processed food) regularly. That goes the same for our dogs as well.
The Secret behind Underdog
So... what is the secret behind Underdog healthy and nutritious freshly prepared cooked or raw frozen dog food in Singapore?
Well, the answer is quite complicated and a very costly process
The most basic rule of making a REAL FOOD is using fresh ingredients - meat, vegetables & fruits, oil and botanical. Underdog Singapore tested various fresh ingredients combination while following the USA AACFO guideline to ensure that each of their dog food provides the necessary optimum nutritious for your dog.
As pet parents yourself, it is important to know what ingredients goes into the food that your dog eat. Underdog fresh dog food shares the ingredients that they have used as well as the benefits here.
Underdog Fresh Frozen Dog Food Feeding Guide
Underdog Feeding Guide
When you feed Underdog dog food to your dog, you're also feeding lesser than conventional pet food brands. As each 150g container of Underdog dog food is packed with ingredients that are densely together and nutritious.

Do a comparison, and you will be surprise on how much lesser you will need to feed your dog.

As a general guide...
• Adult dogs: feed 2-3% of their ideal body weight each day.
• Puppies up to a year old: feed 5-10% of their body weight.
• Puppies up to 6 months old: feed up to 3 times per day.
• Puppies older than 6 months: feed 2 times per day.

For a more accurate Underdog feeding guide, find out more here.
Is Underdog fresh dog food suitable for my puppy?
All puppies should begin eating complete & balanced meals because they cannot regulate vitamins and nutrients like an adult dog can. They also have higher amino acid requirements during their crucial growth period.

2-4 months old: 10-8% of current body weight.
4-6 months old: 8-6% of current body weight.
6-8 months old: 6-4% of current body weight.
8-12 months old: 4-3% of current body weight.

Each puppy is different – these guidelines are just starting points. Monitor your puppy's body condition and growth closely and adjust percentages and feeding schedules as needed.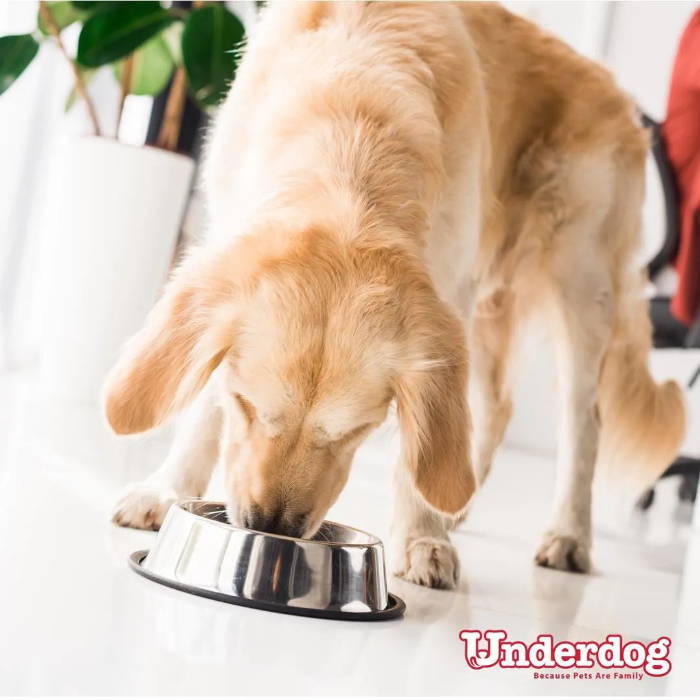 ---
Underdog Dog Food Feeding Preparation
Underdog dog food is easy and convenient to feed with just a few simple steps!
Place the intended feeding portion or tray in the chiller the day before.

During the mealtime, take the Underdog dog food tray out of the chiller.

Now it's thawed, you can just tear open the lid and pour the food into the dog bowl.
Yes that's all it takes to feed Underdog dog food - Thaw, tear and serve!
---