With the circuit breaker measures lifted and moving into post-circuit breaker phase 1, pet grooming is now allowed from 2nd June 2020. Here are some procedures for our pet grooming services, to ensure the safety of the pet parents.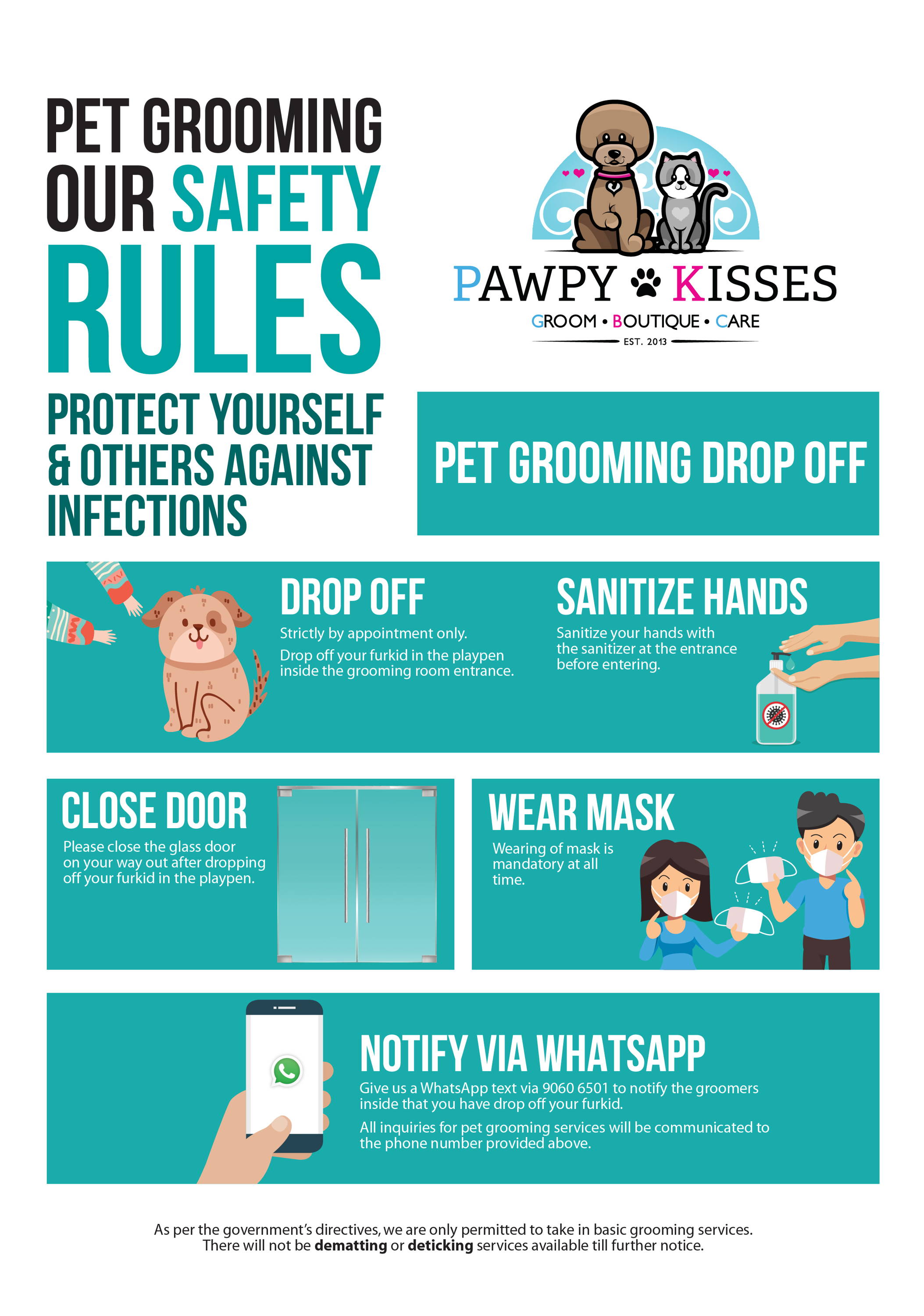 Pet Grooming Services Strictly by Appointment Only
Our pet grooming services will only be strictly by appointment and for the booking of appointment, you may WhatsApp to 9060 6501 to inquire. However, please take note that due to the short-term suspension of pet grooming services, most of the early booking slots have been taken.

Our pet grooming appointment is based on a first-come, first-served basis. Hence, you may check with our staff for the next available date for our pet grooming services.
As per the government's directives, we are only permitted to take in basic grooming services. There will not be dematting or deticking services available till further notice.
Drop Off / Pick Up Procedures for our Pet Grooming Services
For pet parents who will be dropping off your furkids at our premises, please take note of a few safety procedures that we have imposed and they're required to be followed.
Drop off your furkid in the playpen inside our grooming room at the entrance.

Remember to sanitize your hand before entering.

Mask has to be worn at all times.

After dropping off your furkid in the playpen, please close the grooming room glass door on your way out.

Notify our groomers via WhatsApp 9060 6501 that you have dropped off your furkid.
For any pet grooming inquiries, please WhatsApp to the phone number provided above.
Contactless Payment Only
Pawpy Kisses will be accepting contactless payment only, and we have a few contactless payment options available.
Credit / Debit Card with VISA, Master or American Express.

FavePay

Paylah or Pay Now
If you have any payment inquiries, you may contact us for clarification.
Pawpy Kisses Pet Retail Shopping
If you like to walk-in and purchase via our retail shop, please take note that there are also a few procedures that has been imposed.
We have a poster pasted on the retail shop glass door with the procedures and our staff will assist you too. Our online pet store is available as well, and our delivery will take 1-3 working days.
For first-time purchase, we have an $8 OFF discount code available. Apply "PK8WELCOME" at checkout with a minimum of $80 order.