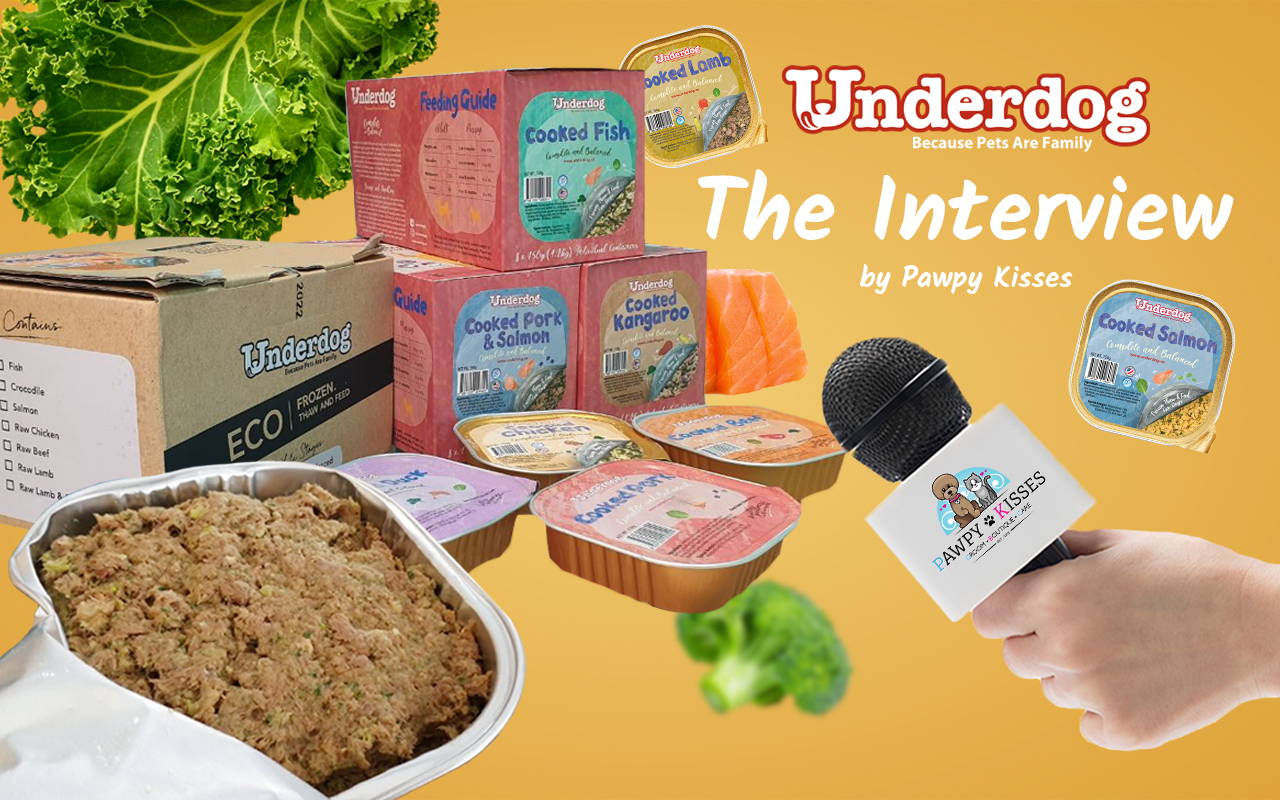 Many pet parents would have heard or even let their dog tried Underdog Fresh Dog Food by now. They're a fresh dog food brand that is made and packed in Singapore.
Underdog Pet Food can be found in more than 40 pet shops islandwide in Singapore and Pawpy Kisses is proud to be one of their trusted retailers.
There are some frequently asked questions about Underdog Fresh Dog Food from pet parents and Pawpy Kisses did a short Q&A interview to clear these questions!
---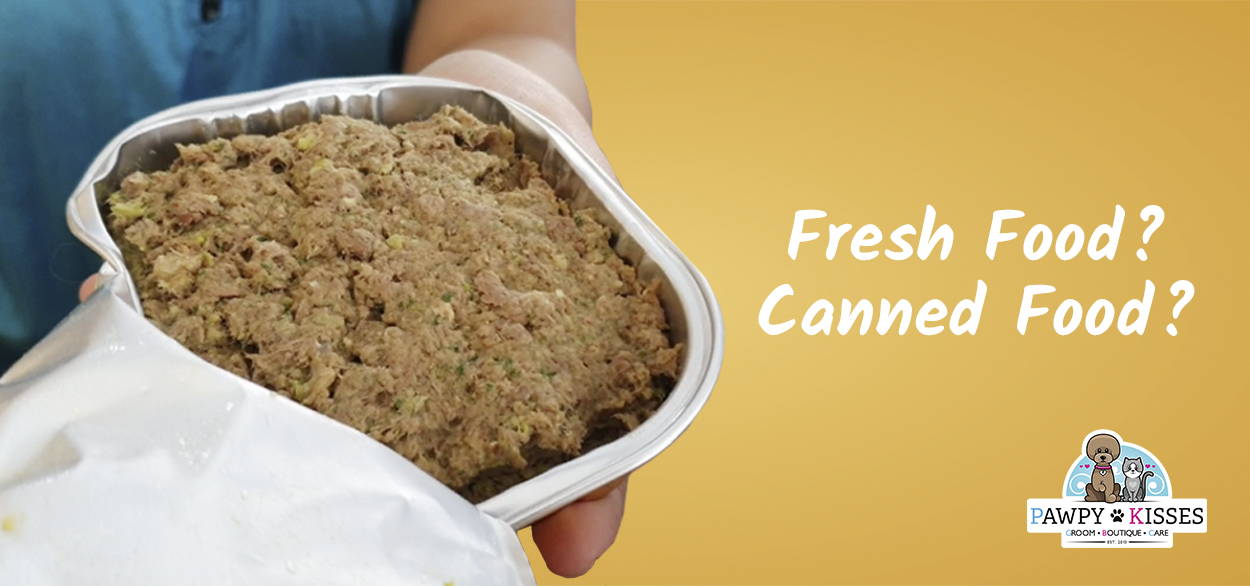 Question 1: Is Underdog a canned food?



Underdog: We have often been asked that, but of course, it's not!

Underdog fresh dog food is packed in recyclable aluminium trays, which blocks out moisture, light, bacteria and gases. It also helps food retain its freshness.

The aluminium tray design also prevents leakage while food is being thawed in the fridge, thereby saving you the hassle of cleaning up.

The difference between Underdog Fresh Dog Food and wet food packed in aluminium trays is that Underdog does not contain any preservatives, flavour enhancers or carrageenan. This is why it has to be kept frozen until ready to thaw and feed.
---
Question 2:

I can cook and meal prep for my dog at home. What's the difference?



Underdog: It is good that they home-cook. If they home-cook, by adding 10% meat and vegetables to a kibble diet, so as to reap benefits of fresh food, yet not throw nutrience balance off.

Many pet parents are aware of the benefits better nutrition bring and have lovingly begun to grocery shop, wash, chop and cook meals for their dogs. We feel that it is a great initiative as some fresh food is better than none at all.

However, our dogs rely on us to put the nutrients they require into their bowl.

While many books, articles or videos make it seem easy to feed a fresh food diet, it is easy to feed or even overfeed our dogs while simultaneously starving him of the micro-nutrients he needs to live a healthy, long life.

Underdog's recipes are formulated based upon many years of research. Our finished product is tested for minerals, vitamins, amino acids and fats. We also place emphasis on recipes that are high in omega 3 to support brain, heart, eye and joint health.

These processes are important as we want to know what ingredients go into our dog's bodies, and how much nutrients these ingredients provide.
---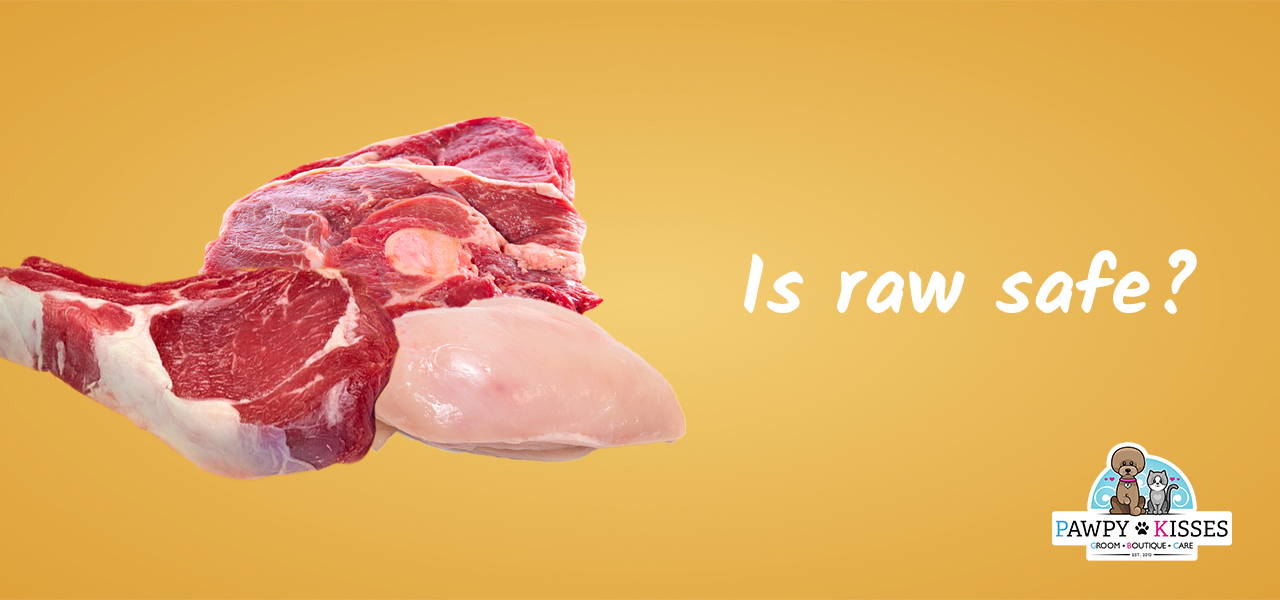 Question 3:

Is Underdog raw dog food safe for my dog to consume?



Underdog: While raw foods contain enzymes and bioavailability of nutrients, it is always going to contain the potential for bacteria. Healthy dogs have short digestive tracts and highly acidic stomachs that can help them process bacteria without becoming ill.
We also encourage good hygiene practices which can be found here.
We procure supplies from the humans' food supply chain, which has stringent hygiene demands and is regularly inspected for pesticides, chemicals, drugs, and unhealthy meats.

Raw dog food may not be suited for every pup, such as dogs with a compromised immune system, kidney or liver issues.

Both ways, raw or cooked, your dog is gonna love Underdog!
---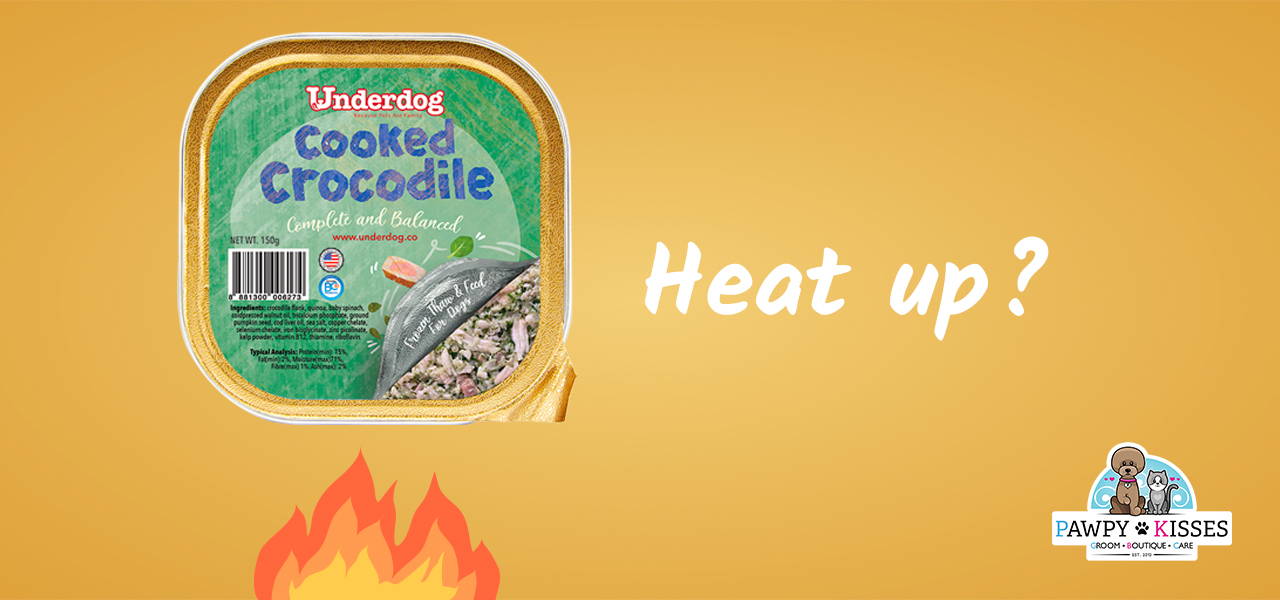 Question 4:

Do I need to reheat Underdog cooked recipes before feeding?



Underdog: Warm foods release aroma and become more appealing and appetising for our dogs.

We recommend letting it sit on the countertop for 10 minutes or adding warm water to the food prior to serving.

An ideal temperature is approximately 33°C. Adding warm water raises the temperature and increases hydration levels.

We do not advise that you cook, boil or microwave our recipes as we cannot guarantee the nutritional value of our complete meals when cooked again.
---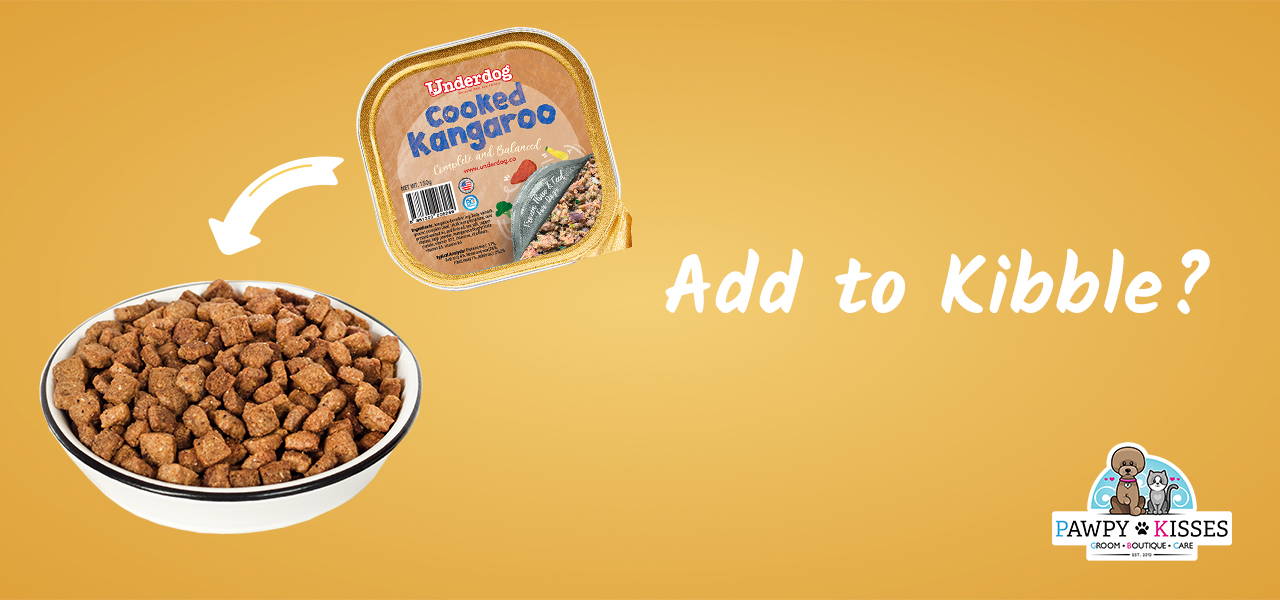 Question 5: I'm feeding kibbles dry food as the main meal, should I add Underdog to my dog's daily meal?



Underdog: Our food tray packaging makes it a very convenient fresh food topper for kibbles. Other than an extra boost of nutrition and moisture to kibbles, it is also highly palatable and enticing for picky eaters.

Offering a whole-food diet that is full of quality protein, fruits, vegetables, vitamins and nutrients helps maintain muscle mass and keep our dogs happy and healthy.

When adding toppers, pay attention to your dog's calorie intake. Do consider reducing their kibble portion to maintain a lean, healthy weight. Otherwise, they might gain some weight.
Question 6:

What is the cost of feeding Underdog fresh dog food?



Underdog: This depends on your dog's weight, activity levels and food fed. A fairly active 6kg adult dog, would cost approximately $3.60 per day, 1 tray of Underdog Fresh Dog Food which contains 150g of food.

However, as every dog has a different activity level, body condition score and intake of other foods such as treats, we advise pet parents to adjust feeding portions accordingly.
Question 7:

How is Underdog different?



Underdog: At Underdog Fresh Pet Food, we formulate our dog food recipes based on their nutritional merits for your dog, and the safety of your dog's food is our top priority.

Different foods interact with each other and there are various minerals, vitamins and fatty acids that need to be balanced with each other; such as calcium & phosphorus, vitamin E & omega 3, omega 3 & 6, etc.

Underdog Pet Foods is more than just a mix of "human-grade meat and vegetables".

We formulate our fresh dog food based on a blend of ingredients to provide the nutrients your dog needs to live his best life. It includes quality meat protein, fresh produce, balanced fats, supplements and vitamins.

At Underdog, food safety is the priority. Our packaging and food safety process is designed to keep our foods safe while retaining nutrients and taste.
---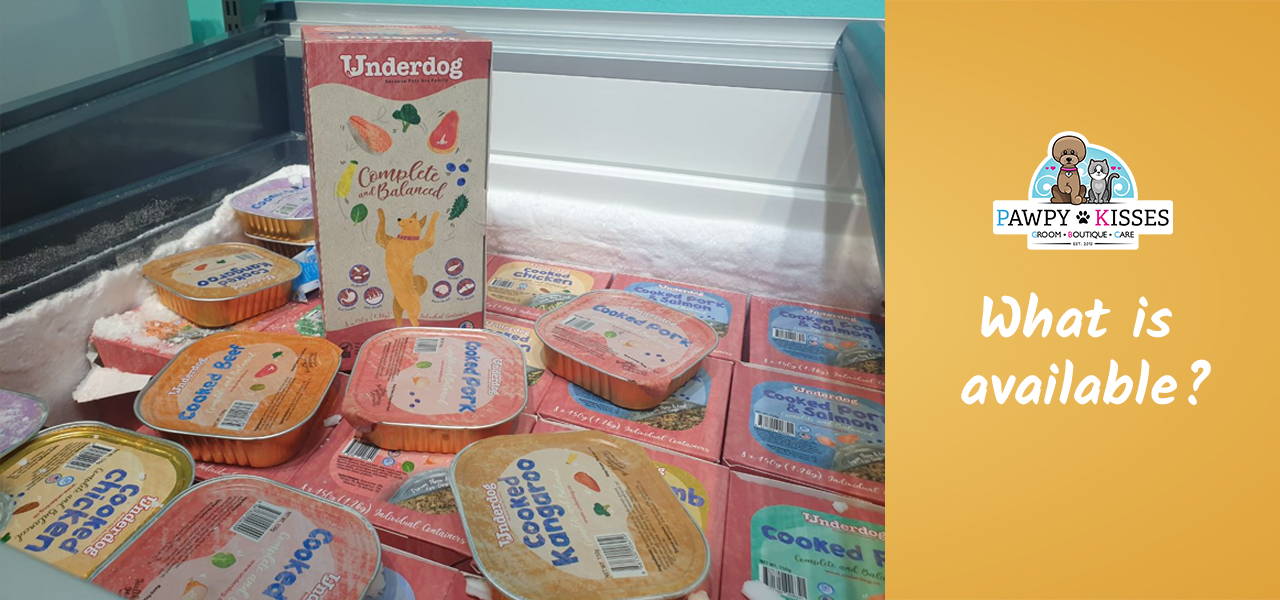 What is available for Underdog Fresh Dog Food?
Now Underdog has helped to answer some of the frequently asked questions from pet parents, are you curious about the food they have? Let us do a summary of the Underdog Pet Food that is available.
Cooked Food
Underdog cooked food consists of 10 unique recipes and each comes in a box of 1.2kg (8 x 150g):
If you're interested to rotate with different animal proteins, our online store is available to mix a box of 1.2kg with different flavours as well!
For food tasting, you can get 4 x 150g trays here for your dog to try.
Raw Food
Underdog raw food consist of 4 unique formulas and they come in two sizes - 1.2kg or 3kg ECO Pack. (ECO Pack contains less packaging, hence it is eco-friendly and economical.)
Explore Underdog Dog Food collection here.
An Underdog of Fresh Food Brand
Underdog Fresh Dog Food has receive numerous positive feedback which you can see from their Facebook and Google review.
You may also be interested to follow Underdog Instagram with the repost of other little paws eating Underdog in their Instastories!
Why not follow Pawpy Kisses Instagram as well?